Clayton Memorial Unitarian Universalist Church is a small country church and community of friends. We gather to worship, to give voice to our liberal faith, and to serve as a church family to people in the Newberry and Lake Murray area.
The church is located amid rolling hills in the South Carolina c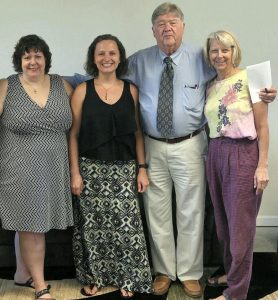 ountryside and has been established for over 100 years. Clayton started in the 1840s as a family church in the Universalist tradition. The congregation met in parlors, on front porches, and at a nearby spring. The building was constructed by two brothers in 1906, and it still sits among the fields of the original family farm.
Please read more in:  A Rich Legacy of History
For many years, our members received spiritual sustenance from circuit riding preachers who made their rounds on horseback. Currently, we are pleased to have Michelle Robinson serve as our minister.  She has provided pastoral care and spiritual leadership for us since September 1, 2015.  In addition to serving as pastor for CMUU, Michelle Robinson is Manager of Spiritual Care and Education for Carolinas Healthcare System Union in Monroe, North Carolina.
Marla           Michelle     John      Marsha